Description
Homemade water purifiers (for water troughs and kitchen sink).
The home water purifiers are ready to connect to the sink, it is only necessary to drill a hole in your sink to connect the faucet.
Water can contain a large amount of biological and chemical contaminants, which are imperceptible to the naked eye. It should be noted that biologically contaminated water carries with it microbes and viruses, which can result in minor to severe infections and bacteria leading to stomach disorders.
Some of the causes of chemical contamination are inadequate treatment of waste and pesticide spills. If chemically contaminated water is consumed regularly, it could lead to serious long-term ailments.
Many brands of purifying equipment are currently marketed for installation in kitchens or drinking water dispensers, which osmotize all of the water they deliver.
100% reliable water filters.
UV light lamp to eliminate bacteria.
Lifetime of cartridges and UV: 12 months.
Size of the cartridges and cartridge housing is 10″ standard size.
Includes goose-necked servicer key and connections.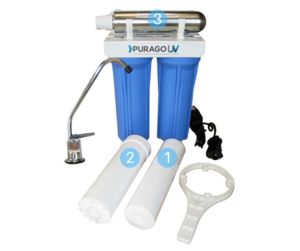 Find water purifiers here: https://www.filtrashop.com/categoria-producto/tratamiento-de-agua/purificadores-de-agua/