1.5 ″ Top Stak Distributor or Nozzle
Code
Part number
Description
Flow (gpm)
Tank
Valve
Clack
Fleck / Bajonet
P_049146
AQT-TD-MV2
5.5 "X 3.5", 1.5 "Thread
70 – 85
14 "-36"
AQT-MSV-2
–
–
AQT-MFV-2
P_049147
AQT-TD-1199
5.5 "X 3.5", 1.5 "Pija
70 – 85
14 "-36"
AQT-285
–
–
AQT-290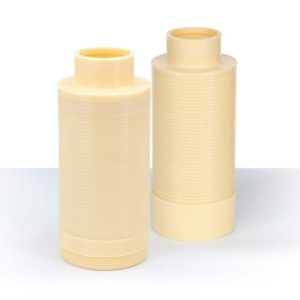 Code
Part number
Description
Flow (gpm)
Tank
Valve
Clack
Fleck / Bajonet
P_049148
AQT-BD-1196-07
3 "x 3.5", 1.5 ", Cement
40 – 50
14 "-16"
AQT-285
D1196-07
–
AQT-290
P_049149
AQT-BD-1197-07
6 "x 3.5", 1.5 ", Cement
16 "- 24"
14 "-36"
AQT-285
D1197-07
–
AQT-290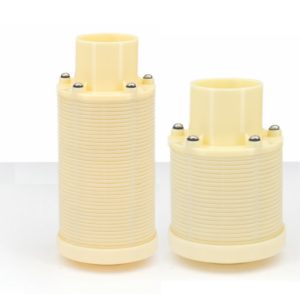 Nozzles are used in solid / liquid or solid / gas separation. their design and quantity will vary depending on the application and customer flow requirements. Nozzles also allow more efficient use of treatment media. Common applications include:
• Manifolds and distributors installed uniformly through a plate or side arrangement
• Demineralizers, water softeners and pressure or gravity sand filters.
Stack type top distributor for top valves. Stack type diffusers are designed to diffuse or separate the flow at the water inlet when the distributor is not in use. Available with screw or threaded valve connections. 
Dimentions:
3.5 "diameter stack by 5.5" tall for a 1.5 "riser