Pentair everpure
It is one of the most recognized brands among foodservice restaurants and fast food franchise managers, and one of the most trusted brands by those serving in the foodservice industry, including consultants, distributors, suppliers of water-use equipment OEMs and services. Pentair Everpure's broad portfolio of technologies and products is designed to be sized to provide the exact water quality specifications needed to meet food, ingredient and coffee or process water requirements.
EVERPURE®
FILTER CARTRIDGES AND SYSTEMS
EVERPURE® - RESIDENTIAL / COMMERCIAL FILTRATION SYSTEMS LIGHT USE

Code
Part number
Description
Gallons

P_061205

EV930090
HQS-WF, 2 Sediment, 1 Anti-scale
3,000

P_061207

EV930095
HQS-WF w / UV, 2 Sediment, 1 Anti-scale, UV-1
3,000

P_061208

–
HQS-WF w / MC2 (.5mic), Sediment, Antisarro and Installation Kit
9,000

P_061209

–
HQS-WF w / PRO-4 (.15mic), Sediment, Antisarro and Installation Kit
3,600
EVERPURE®
VERPURE® - FILTRATION SYSTEMS FOR ICE MACHINES
Code
Part number
Description
Gallons
P_061211
EV932421
Insurice Single System, I2000 PF, 1.67 gpm
9,000
P_061304
EV932422
Insurice Dual System, i2000 PF, 3.3 gpm
18,000
P_061305
EV932523
Insurice Triple i4000 PF System, 5.0 gpm
36,000
VERPURE® - Filtration Systems Multiple Applications: Posmix, Ice, Coffee Makers
Code
Part number
Description
Gallons
P_061212
EV932806
Everpure Triple MC2 CSR High Flow 5.0 GPM System
27,000
P_061213
EV943710
Everpure Quadruple System MC2 High Flow CSR 6.67 GPM
36,000
VERPURE® - Scale and Scale Removal Systems
Code
Part number
Description
Gallons
P_061214
EV979750
Everpure Filtration System to Reduce Scale, 5 GPM
6,000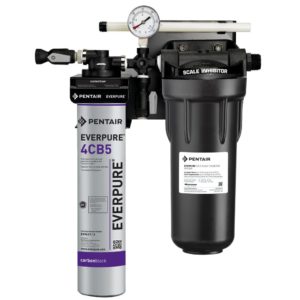 Purifiers provide fresh, clear water to your restaurant, improving the taste, quality, and overall appearance of the product. Using a specialized filter blend and SR-X Scale Inhibitor, this system fights against health contaminants like bacteria and cysts, while dramatically reducing sediment and scale build-up, which could damage internal components. of their ice machines and coffee machines. Plus, since it filters out chlorine and unpleasant taste and odor, you'll have a better tasting and smelling product too!
This filtration system features a 20 ″ pre-filter cartridge that is specially designed to reduce the amount of dirt and sediment in your water before it reaches your primary filter, increasing the efficiency of the entire system and extending life useful of your primary filter cartridge.
Ideal for use with high volume or combination equipment, this filter system has a capacity of up to 36,000 gallons with a maximum pressure requirement of 125 PSI. To ensure that even the smallest contaminants cannot slip through the filter, this system has a 0.5 micron rating and a 6.7 GPM flow rate, ensuring a constant flow without sacrificing cleanliness. And, changing cartridges is quick, easy and hygienic, because none of the internal parts of the filter are exposed during routine handling.
Reduces the taste and smell of chlorine and other offensive contaminants that can adversely affect the taste of beverages.
Standards: NSF / ANSI 42 and 53 certified for aesthetic and health effects such as chemical and cyst reduction.
California residents see Proposition 65