Distribuidor o Tobera Superior Stak de 1.5″
Code
Part number
Description
Flow (gpm)
Tank
Válvula
Clack
Fleck / Bajonet
P_049146
AQT-TD-MV2
5.5" X 3.5", 1.5" Rosca
70 – 85
14"-36"
AQT-MSV-2
-
-
AQT-MFV-2
P_049147
AQT-TD-1199
5.5" X 3.5", 1.5" Pija
70 – 85
14"-36"
AQT-285
-
-
AQT-290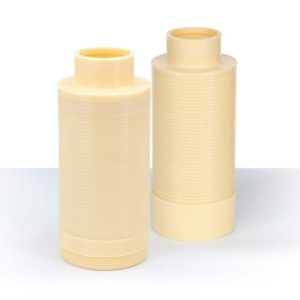 Code
Part number
Description
Flow (gpm)
Tank
Válvula
Clack
Fleck / Bajonet
P_049148
AQT-BD-1196-07
3" x 3.5", 1.5", Cementar
40 – 50
14 "-16"
AQT-285
D1196-07
-
AQT-290
P_049149
AQT-BD-1197-07
6" x 3.5", 1.5", Cementar
16"- 24"
14"-36"
AQT-285
D1197-07
-
AQT-290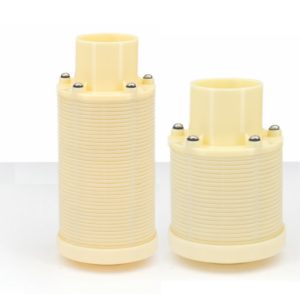 Se utilizan toberas en la separación sólido/líquido o sólido/gas. su diseño y cantidad variará en función de la aplicación y de los requisitos de flujo del cliente. Las toberas también permiten un uso más eficaz de los medios de tratamiento. entre las aplicaciones comunes se cuenta:
• Manifolds and distributors installed uniformly through a plate or side arrangement
• Demineralizers, water softeners and pressure or gravity sand filters.
Distribuidor superior tipo Stack para válvulas superiores. Los difusores tipo Stack están diseñados para difundir o separar el flujo en la entrada de agua cuando no se utiliza el distribuidor. Disponibles con tornillo o con conexiones de válvulas roscadas.
Measurements:
3.5" diámetro de stack por 5.5" de altura para un tubo ascendente de 1.5″