A tool that offers specialized information on water and sustainability projects. Explain the different investment opportunities in this area.
Without water, life on this planet would not be possible. Even though this vital fluid is abundant, only 2.8% is fresh water; of this amount, the 70% is at the poles, frozen, and 27% is underground. In reality, we only have 1% of this vital liquid available in rivers and lagoons, bodies of water contaminated by human hands.
The demand for fresh water increases considerably. According to the United Nations, during the 20th century, water consumption has increased six times when the population has only tripled. So why is so much more water required? The industries. Livestock. The Agriculture. These are some of the answers.
And, what happens with water to meet human needs? What happens with those communities that do not have direct access to drinking water? With those people whose lives are vulnerable due to the consumption of contaminated water? What about wildlife?
The Calvert Foundation is aware of this situation and invites us to be part of the solution with the Water Investing application, with an opportunity to create and develop sustainable methods of collecting, treating and distributing water efficiently.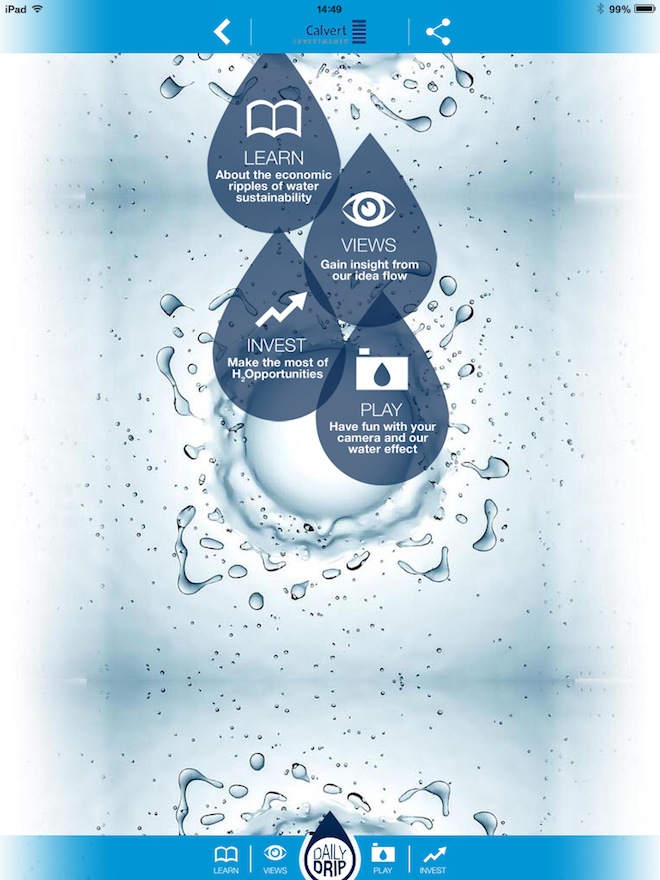 This tool has 5 sections, for all those who want to accept the challenge:
Learn. A section that helps you understand the economy around the sustainability of water. It offers timely information, in the form of an infographic.
Perspective. Provides insight into our flow of ideas, including analysis from leading solution companies and tweets from sustainability experts.
Daily drip. Stay up-to-date on the news and economic analysis of water sustainability, information gathered from more than 200 reputable sources on the web.
Investment. A section that offers everything you need to know before investing in water: types of investments, how an investment grows.
Game. Lastly, what would it be like to see through crystal clear water? This application includes a filter that allows you to capture images as if you were seeing them through pure water.
Water Investing is an informative app, designed for those who seek to invest - nothing better than supporting the sustainability of water. Likewise, if you do not plan to invest at this time, it offers you useful information to understand what happens with this precious liquid and, at the same time, important data about its care, viable projects, advances in the field and interesting proposals.
Available for Android 2.3 onwards and for ios 7.0 onwards, in both cases, cell phone or tablet.