Nozzles and distributors
Showing all 10 results
Diffusers, distributors and nozzles for water filters.
Top and botton distributors and nozzles are used to prevent resin, activated carbon or any other granular media that we place inside the tank from flowing out.
Jonshon Type Nozzles

Our brand of stainless steel nozzles.
They are widely used in power plant, petroleum, chemical, pharmaceutical, food industries, such as water treatment equipment, water treatment equipment is the key components of water and water distribution.
In addition they are suitable for ion exchange systems, ion exchange resin and so on.
It is also used in various forms, such as mechanical filtration equipment, exchange resin and gravity filter.
Hydrospheres.
ABS Plastic Hydrosphere Nozzle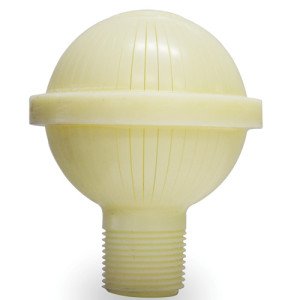 Polypropylene is suitable for most water treatment applications. However, if the water temperature exceeds 60°C or if a specific chemical resistance is required, other materials of construction will be chosen. Carbotecnia will recommend the most suitable option for your industry and application.
Multiple diffusers or distributors for water filters.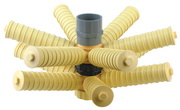 The bayonet or tube is screwed or glued to the manifold to reach from the base of the tank to the valve. It is made of ABS plastic (FDA approved) or stainless steel. This type of diffuser is usually installed on media filters, activated carbon filters and softeners larger than 24″ in diameter.
Jonshon type nozzles and filter diffusers prices.
The price of all types of diffusers depends mainly on their materials of construction. Stainless steel nozzles are the most expensive and polypropylene diffusers are the most economical.
It is important to select the most suitable for your budget and application.
If you need more information, please contact us:
Fields marked with * are required
If you need more information, please contact us: